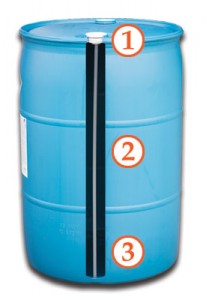 KleenConnect offers both the Safety-Feed™ and the Sani-Feed™ 100% Food Grade to all industries with the need to dispense liquid chemicals or food ingredients through feed dispensing systems.
These products offer the safest, fastest and easiest way for end users to attach a chemical or food ingredient system to a drum or IBC.
KleenConnect™ bung is connected to a full-length pickup tube pre-installed in the drum for the end user.
Pre-installed pickup tube eliminates the need for workers to come into contact with chemicals while changing out a drum or IBC. Also drastically reduces the risk of food ingredient contamination.
Full-length pickup tube ensures all product can be withdrawn, saving money on wasted product.