The safe, fast, easy way to attach a chemical feed system to a drum or IBC
Fully Automated Forklift Entryway Sanitizing System
The easiest, least expensive, and quickest way to sanitize the tires of a forklift before entering critical control areas.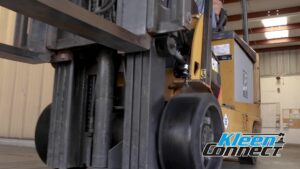 KleenConnect's Automated Forklift Entryway Sanitizing System attaches to any forklift without the need to drill or bolt anything. Our patented system uses rare earth magnets to allow the installer to quickly outfit any forklift with a sanitizing system with just a few basic tools. Its unique photo sensor actuated pumping system dispenses a sanitizer spray to the wheels of the lift, quickly killing micro organisms on contact. The "F" style container can be refilled from bulk and re-connected to our system by installing a disposable patented Safety Feed™ dip tube after filling.
To order these systems for your fleet or to get more information, contact us or ask your forklift maintenance company to provide them.
Click here for the "Installation/Users Manual"
Click here for the "Forklift Entryway Sanitizing System" Rack Card